Nike's Social Media Strategy: A Deep Dive
Did you know Nike has won an Emmy award for their "You Can't Stop Us" commercial?
Apart from brilliant commercials, they have also developed a reputation for being one of the most iconic and influential brands in the world. They're known for being accessible to all kinds of people, no matter their gender or age.
Their tagline — just do it — is known across borders and demographics, which helps them appeal to customers from all over the world.
For Nike, it's not just about selling products—it's about helping people get fit and healthy, which is why it has been so successful at reaching people who wouldn't normally consider buying a fitness product.
They know how to use their products, customers, and reputation to communicate with their audience without appearing pushy or salesy. They also know how to appeal to younger generations while remaining relevant to older millennials — a difficult balance but one that Nike has managed well.
In this blog, we will do a deep dive into Nike's social media strategy to see what they are doing right.
Let's start with an analysis of their social media accounts.
Analysis of Nike's social media accounts
Nike's social media strategy has been building on the strength of its brand voice for many years now, and it shows in their social media posts. They have a powerful presence on Instagram, Facebook, and Twitter, amongst other platforms, with highly engaging content that appeals to their followers' interests.
Here's a look at their followers on their main account: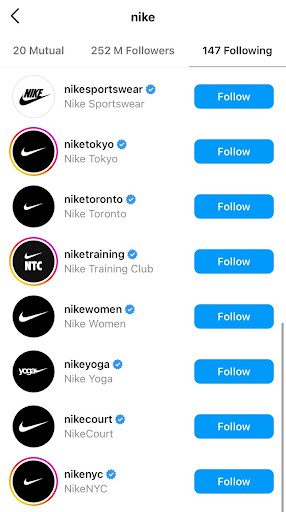 Instagram: 252 million
Facebook: 36 million
Twitter: 9.58 million
LinkedIn: 5 million
TikTok: 3.1 million
YouTube: 1.71 million
Reddit: 568k
Apart from these accounts, their sub-accounts like @nikebasketball have 13.7 million followers, @nikesportswear has 7.9 million followers, and @nikewomen has 7.2 million followers on Instagram.
What makes Nike's social media strategy successful?
Here's a look at what makes Nike's social media strategy successful:
1. Experimenting with content formats
Source:
Nike (Twitter)
One of the key elements of Nike's social media strategy is its willingness to experiment with different content formats.
This includes using videos, graphics, or other types of multimedia to showcase their products and stories. By using a variety of content formats, Nike can keep its audience engaged in its content.
2. Engaging with the audience

Another key element of Nike's social media strategy is its focus on engaging with its audience. By engaging with its audience, Nike fosters a deeper connection and builds loyalty.
The brand often encourages its followers to share their own stories and experiences, using hashtags (such as #nikefc, #nikewomen, and #justdoit) and other tactics to spark conversations and create a sense of community.
3. Following viral trends
To stay relevant and engage its audience, Nike carefully follows social trends and incorporates them into its marketing strategies.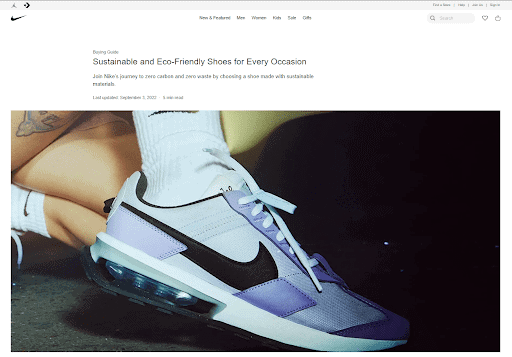 For example, Nike has embraced the trend of sustainability and has made a commitment to using eco-friendly materials in its products.
By staying current with social trends and using a variety of marketing strategies, Nike can connect with its audience and maintain its position as a leading athletic brand.
4. Social listening
Nike also uses social listening to monitor conversations and trends on social media. This allows the brand to stay up-to-date on what its audience is interested in and to respond quickly to any issues or concerns that may arise.
5. Sharing product updates
Nike regularly shares updates about its products on its social media channels to keep its audience informed and engaged.
This includes sharing news about their latest product releases, highlighting the features and benefits of new products, and showcasing the products being used by athletes and customers in real-life situations.
By sharing these updates, Nike creates a sense of excitement and anticipation among its audience and encourages them to stay up-to-date with the brand.
6. Collaborating with public figures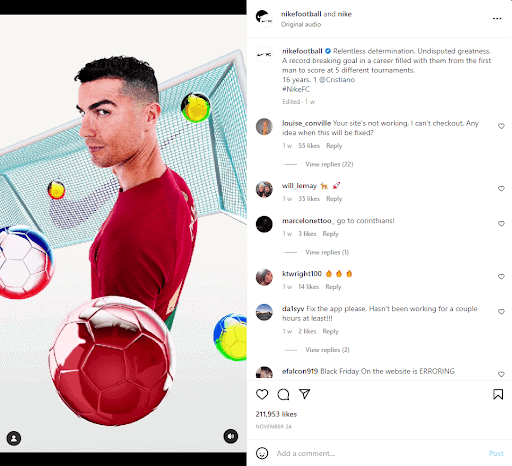 Source:
Nike (Instagram)
The brand has partnered with famous athletes and celebrities to promote its products and has launched social media campaigns to connect with consumers on a more personal level. It also helps them tap into the influencer's audience and grow their online presence.
7. Focusing on customer relationships
Nike is known for its focus on maintaining strong customer relationships. This is clear in Nike's social media strategy. In fact, people proactively share their products on their social media handles.
Source:
Nygel Edmonds
Nike also uses its social media channels to connect with its customers on a personal level and create a sense of community and engagement.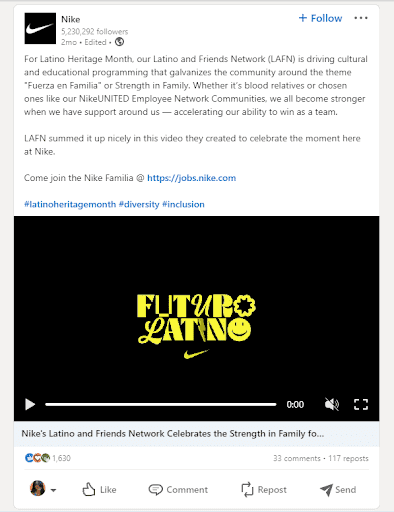 Nike cares about its audience. So, they actively host initiatives related to pride month, diversity, and inclusion.
8. Offering timely customer support
Besides sharing content, Nike also uses its social media channels to listen to its customers and respond to their comments and questions in a timely and personalized manner.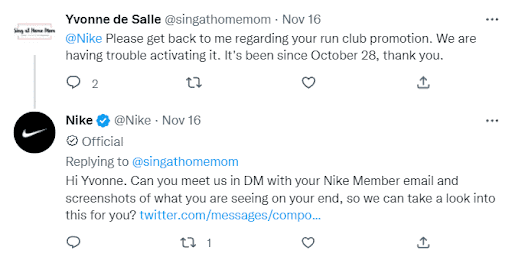 This helps them solidify their relationship with their audience and build further trust in their products. It also shows the brand's commitment to customer service and helps to develop loyalty among its audience.
They not only address issues but engage with Tweets from their audience often like this:
9. Providing social proof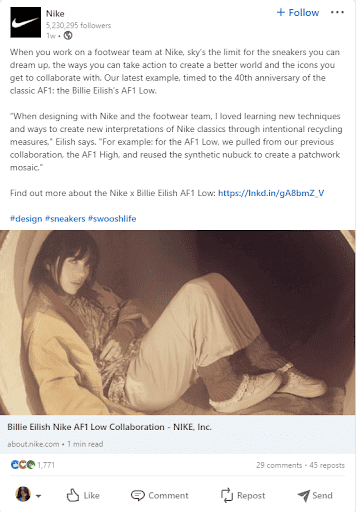 Source:
Nike LinkedIn
All of Nike's social media handles are stories of social proof. Even on a professional platform like LinkedIn, they showcase their celebrity collaborations and gain traction.
For example, their recent collaboration with 84-time award winner, Billie Eilish, gained considerable social media attention.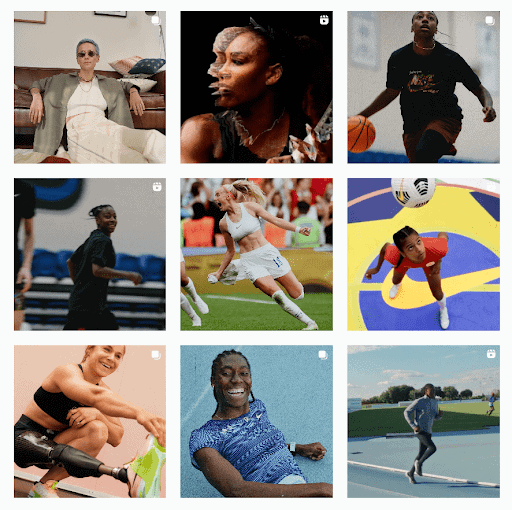 Even their Instagram grid looks like a wall of social proof from top athletes like Serena Williams, Megan Rapinoe, Chloe Kelly, and Amy Bream.
By watching their favorite influencers and athletes, their audience is compelled to join the Nike community.
Nike's social media strategy in a glimpse
Let's look at Nike's social media strategy effectiveness:
1. Nike on Instagram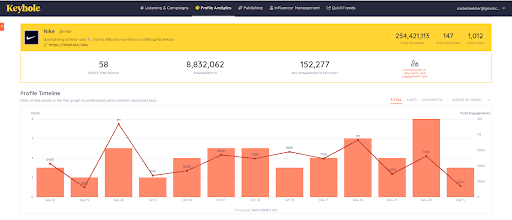 In the past 3 months, Nike has received a staggering 8,832,062 engagements while posting only 58 items on their account.
Below is an overview of their follower growth, content formats, and most engaging content in the past year. Notice how they experiment with different formats while still relying on carousels as their top choice to drive engagement.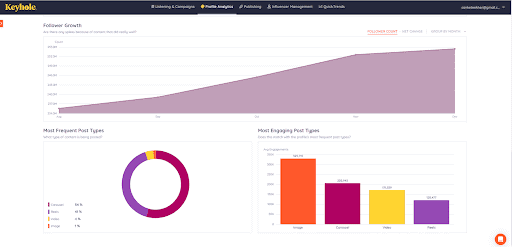 2. Nike on Facebook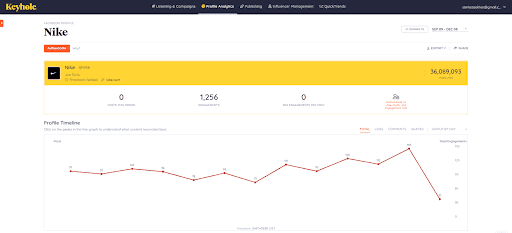 Interestingly, even though they have 36,089,093 followers on Facebook, Nike hasn't used the platform in the past few months. This has contributed to their dwindling engagement. They don't use this platform actively, and their second-most recent post is from 2018.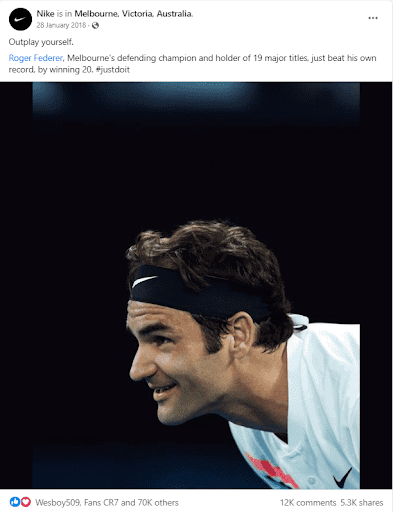 Source:
Nike Facebook
This post features ace tennis player — Roger Federer. So, even though they may not remain active on Facebook, the faces they feature are enough to get people talking. And their fans can't help but support them by liking, sharing, and commenting on their content.
3. Nike on Twitter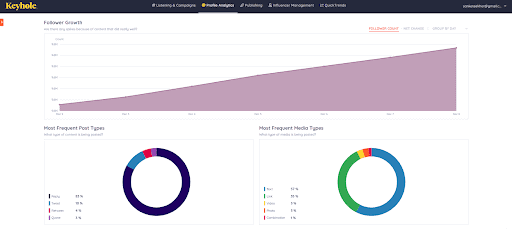 With 9,602,018 followers and 38,095 tweets, Nike is pretty active on their account. As you can see in the Keyhole dashboard above, Nike has been enjoying steady daily follower growth.
You also notice that a significant part of their Twitter marketing strategy is actively responding to their audience. 10% of their activity comes from tweeting, with a heavy reliance (57%) on text-based tweets.
Source:
Nike Twitter
They also collaborate on tweets with their other accounts to increase their reach and engagement. Not only that, they even mention FC Barcelona's Alexia Putellas and congratulate her on becoming the first woman to win the prestigious Ballon D'Or award.
Why does this work? It shows their commitment to sports and also educates their audience on the happenings in the sports world.
4. Nike on YouTube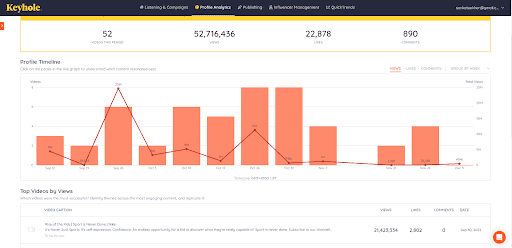 In the past 3 months, Nike has received decent engagement on its YouTube channel. In fact, they have over 21 million views on their top video — Rise of the Kids | Sport is Never Done. Their second and third most-watched video during this period has almost 10 million and 4.5 million views respectively.

From September to December 2022, they made 52 videos and amassed 52,716,436 views from their total views of 434.5 million.
This only goes to show that no matter the length of the videos, Nike's social media strategy significantly relies on YouTube for engagement (and revenue).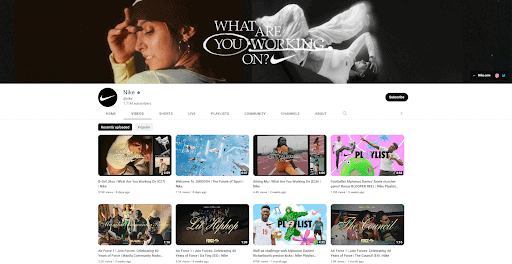 You can have a winning social media strategy too. How?
Use social listening
Monitor your performance
Do a competitor analysis quarterly
Nail your social media game with social listening
Nike's tagline is a philosophy that underlines its entire brand. They have built an empire on the belief that you can be anything you want to be, and they're putting that belief into action with their products.
But how are they doing it? They have an incredible social media presence that makes people feel inspired, motivated, and excited about what they're creating.
They don't force you to do anything — they just show you their extraordinary product potential via social media and their other marketing initiatives.
Still, you don't need to be as big as Nike to nail your social media marketing game.
To leave an indelible mark on social media by leveraging features like social listening, sentiment analysis, and competitor analysis, start your free trial with Keyhole today.
Related Articles:
A Guide On How To Do An Instagram Competitor Analysis In 5 Steps
How to Track & Analyze Competitors on Facebook
Frequently Asked Questions
What is Nike's social media marketing strategy?
Nike's social media marketing strategy includes featuring brand collaborations and product releases and creating multiple accounts to expand its reach. This includes Nike women, Nike Football, Nike Basketball, and Nike Yoga.
What digital strategies does Nike use?
Nike uses social media marketing for brand promotion and athlete sponsorship. They also use email marketing to share offers and discounts with their subscribers frequently.
Why is Nike successful on social media?
Nike organically shares their collaborations with celebrities and athletes on their social media accounts. They also engage with their audience often and share causes they support. Apart from this, Nike also employs storytelling to engage its audience.
The post Nike's Social Media Strategy: A Deep Dive appeared first on Keyhole.
* This article was originally published here