EA's final FIFA game is on-track to be the best-selling in series history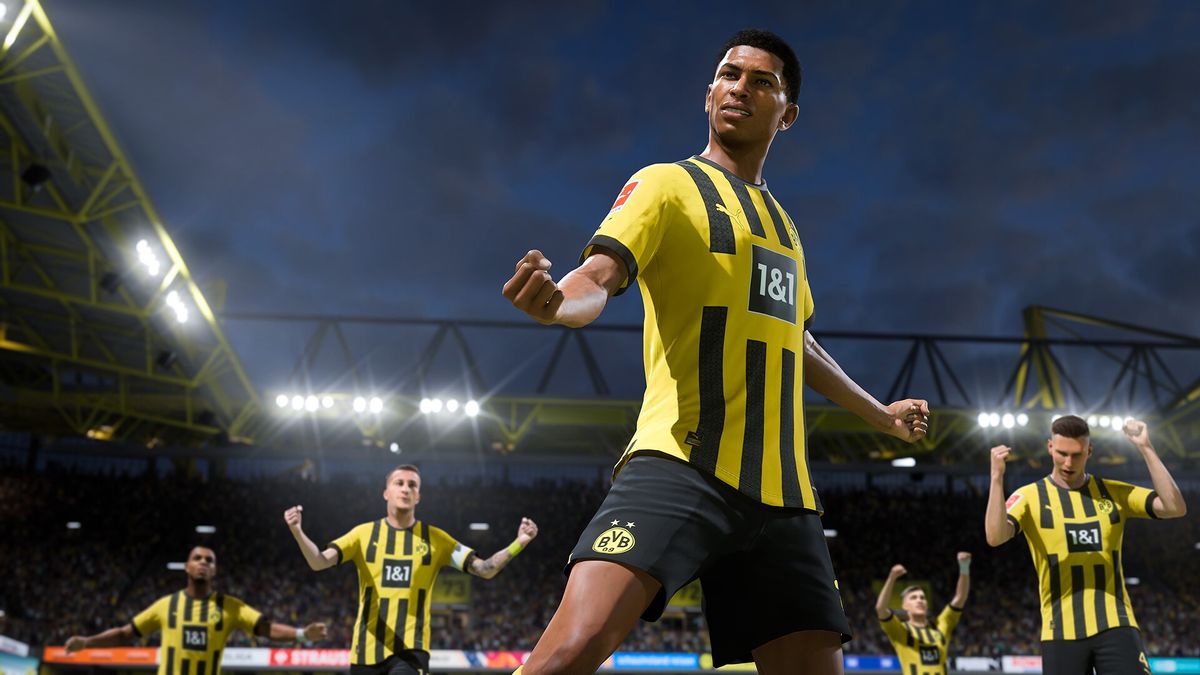 Electronic Arts has posted its financial results for the third quarter of financial year 2023, which is to say the last three months of 2022, and has said that FIFA 23 is on-track to be the most played and profitable entry in the series to date. The announcement is tinged with the slight irony that this will of course be the last FIFA game ever made by Electronic Arts, which following its bust-up with football's governing body is to re-launch the games this summer under the new EA Sports FC brand.
"In Q3, EA delivered high-quality experiences, driving record engagement across some of our biggest franchises and growing our player network. While our teams delivered for our players, the current macro environment impacted Q3 results," said Andrew Wilson, CEO of Electronic Arts.
What the publisher insists on calling the "EA player network" now stands at over 650 million players across its titles, while live services "and other net bookings" were up 4% year-on-year and now represent 75% of EA's total net bookings. Yes, that is a lot of FUT packs and Sims cosmetics.
We'll return to FIFA but in terms of more general tidbits EA chose to highlight NHL 23 and Need for Speed Unbound as "quality" AAA titles, said its teams provided 128 content updates across 36 titles in this period, and that the Sims attracted over 10 million new players during the quarter: "with daily active users, weekly active users and monthly active users all up double digits year-over-year".
EA's CEO Andrew Wilson got into the specifics on an investor call after the results were released, saying that FIFA 23 was "pacing to be the biggest title in franchise history" (thanks, VGC). "Year to date net bookings from the FIFA franchise have grown 4%", said Wilson, "In North America alone, unit sales are up 50% year over year."
The biggest factor in this does seem to be FIFA Ultimate Team, with the game's "record engagement" over these months cited, but straight-up sales of the game are also huge: FIFA 23 had over 10.3 million players in its first week (FIFA 22 managed 9.1 million). There's also of course the intangible world cup factor, with this entry releasing alongside what turned out to be a great footballing event.
What we're going to see later this year is the mother of all re-branding exercises from EA. FIFA is the publisher's golden goose and, while the suits may be bullish about its ability to move beyond the license (which is merely "four letters on the front of a box" according to Wilson), a change on this scale will always come with some degree of risk.
The thing that may really help EA is that the publisher actually knows what it's doing, whereas without EA FIFA looks clueless about games and has ended up putting its name to some frankly crappy stuff already. EA Sports FC may not have the name recognition of a numbered FIFA entry yet but, with no serious competition in sight, this is beginning to look like a walkover.
* This article was originally published here