Honkai Star: Rail Character Tier List for February 2023
Honkai Star: Rail is a new HoYoverse space fantasy RPG, which like the classic RPGs offers a great many options when it comes to character choices. The game starts with the players taking control of Kafka and Silver Wolf, the introductory characters in the game. Then after a couple of standoffs players have to make their own character in the game, thus the journey starts. New characters are then introduced to the game as the story progresses, in this Honkai Star: Rail Character Tier List Guide we will list out the best characters present in the game for selection.
Honkai Star: Rail Tier List for February 2023: Best characters ranked
After investing multiple hours in the game we have come across the following tier list featuring characters according to their rarity and elements in the game. This character tier list will be aimed towards helping new players venturing into the game have the best characters in their team. To simplify things even further we will divide the characters into 3 different tiers namely Strong (S), Good (A), and Average (B)
Tiers
Characters
Rarity
Elements
Strong (S)
Bronya,
Seele,
Himoko,
Kafka,
Luocho
5-Star,
5-Star,
5-Star,
5-Star,
5-Star
Wind,
Quantum,
Fire,
Lightning,
Imaginary
Good (A)
Dan Heng,
Welt,
Trailblazer,
Jin-Yuan
Silver wolf,
Sushang,
Blade
4-Star,
4-Star,
5-Star,
5-Star,
5-Star,
4-Star,
5-Star
Wind,
Imaginary,
Physical,
Lightning,
Quantum,
Physical,
Wind
Average (B)
March 7th
Natasha,
Herta,
Clara,
Asta,
Serval,
Hook,
Sampo,
Pela,
Arlan
4-Star,
4-Star
4-Star
5-Star
4-Star
4-Star
4-Star
4-Star
4-Star
4-Star
Ice,
Physical,
Ice,
Physical,
Fire,
Lightning,
Fire,
Wind,
Ice,
Lightning
Best meta characters in Honkai Star Rail for February 2023
Now moving forward with the tier list we will try and list out the best characters available in the game from each tier stated in the table above. As you can see in the table above there are about 22 characters there for players to collect and have them fight beside you in the battles.
Each character has different aspects to them, the game does a great job of providing diverse options to choose from. With the inclusion of elements and paths, the selection for the best characters makes this list highly subjective as for every player, different characters might prove more useful depending on the gameplay.
S-Tier characters – Himoko
Himoko is a fire-based character in the game and offers great damage and team-building characteristics. The character has a 5 Star rarity in the game and is very useful in battle as a potential fighter. Himoko is a scientist by profession who came to the Astral Express just when she was a child, and thus knows the train better than most of the characters. In her journey, she encountered many challenges foes and allies alike honing her skills and battle IQ even more.
Image via HoYoverse
Combat-wise, she as stated before is a fire elemental and this makes her damages deal more damage than most. Himeko is the usual all-rounder stat stick with huge damage stat, her whole kit deals great damage to the entire enemy team.
A-Tier characters – Dan Heng
Dan Heng is one of the characters players will come across in the early stages of the game and he is a great addition to the fighting unit. Being a wind elemental the character is quick and can attack multiple attacks with the single target option which really comes very handy in targeting one opponent in the game. Dan is a reserved character in the game and carries one spear named cloud piercer.
Image via HoYoverse
The character is one of the best single-target players with a great concentration of damage. Dan Heng is a character who can deal great damage and debuff enemies. He can be the main single-target DPS character for the players if they haven't managed to get an S tier.
B-Tier characters – Asta
Asta, again a fire elemental will be our pick for the B-Tier in the game. Being a Fire elemental the character's statistics are inclined more on the offensive side. In the game, she is the head researcher of the Herta Space Station which proves her intelligence is there on par with her fighting skills.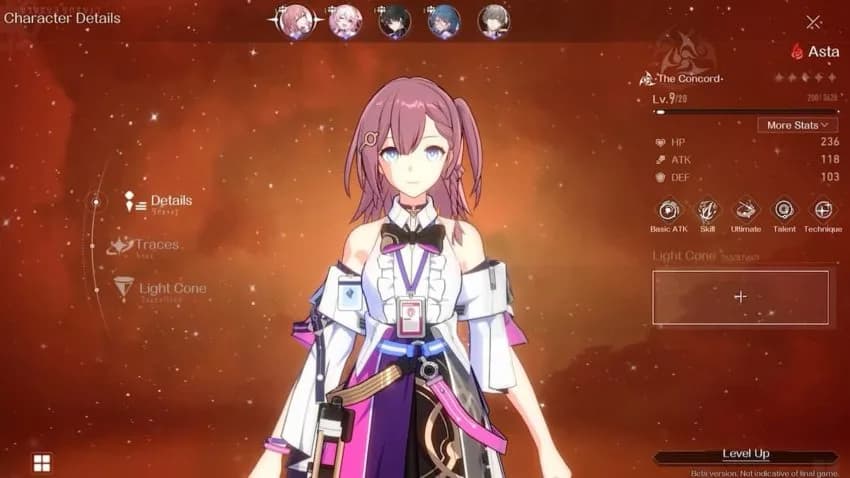 Image via HoYoverse
Asta specializes in combined grouped attacks and can deliver damaging blows to every member of the opposition squad equally. However, the character does struggle with the defense stats in the game and is a little vulnerable to heavy attacks.
Final Thoughts
The game, Honkai Star: Rail comes with great many character choices where each character is unique from the others. With the inclusion of elements and paths, developers have an additional level of diversity in the choices and combinations possible, which is great.
Again these rankings are very subjective and will differ greatly for different players based on what they expect from the characters. All in all, we hope that this Honkai Star: Rail Character Tier List Guide was able to fulfill its purpose and helped players make a decision as to which character to for.
Did you find this Honkai Star: Rail Character Tier List useful? Let us know in the comments below!
For more Mobile Gaming news and updates, join our WhatsApp group, Telegram Group, or Discord server. Also, follow us on Google News, Instagram, and Twitter for quick updates.
The post Honkai Star: Rail Character Tier List for February 2023 appeared first on GamingonPhone.
* This article was originally published here
* This article was originally published here