Honkai: Star Rail: The complete Game mode Guide and Tips
Honkai Star Rail, the next big budget project from HoYoverse offers a great RPG experience based on a space adventure fantasy. The game not only provides ongoing missions and sidequests for players to experience but it also provides a variety of game modes in the game, with each offering different challenges for the players to overcome. Throughout the Astral Express players will encounter different types of quests each having a different mission layout. In this Honkai Star Rail Game mode guide, we will try and explain what are the different types of game modes there for the player to enjoy.
Introducing the Game modes in Honkai Star Rail
The game as of now offers, 3 different game modes in Honkai Star Rail with each offering different challenges and unique monsters in the game to defeat. Not to forget the varying rewards that come with these different game modes. After investing multiple hours in the game, we have come up with the following types of missions and game modes that players can go for while in the Astal Express.
1. Resource-based Missions
Resource-based missions are the most basic missions you will find in the Honkai universe, there are many dungeons from where players can farm resources and materials to progress their account. Some of these dungeons in the game are however locked from the beginning and their availability depends on the trailblazer level of the players.
Image via HoYoverse
It is in these missions are based on 7 different Calyx stages, each corresponding to one of the 7 Paths. Players can mine different character-specific equipment and even some in-game resources used for summoning heroes from the banners in the game. It costs around 10 Trailblaze Power to do one Calyx stage. These stages are repetitive in nature and hence provide great farming runs for the players.
2. Forgotten Hall Missions
Forgotten Hall Missions are arcade-type missions in the game where the goal is to defeat the given number of enemies that players will encounter at a specific level. The number of turns required to defeat all the enemies defines how many stars players will get at the end of the stage, there are 0 to 3 stars available depending on how many turns players take. Rewards post-clearing the missions are also dependent on these stars.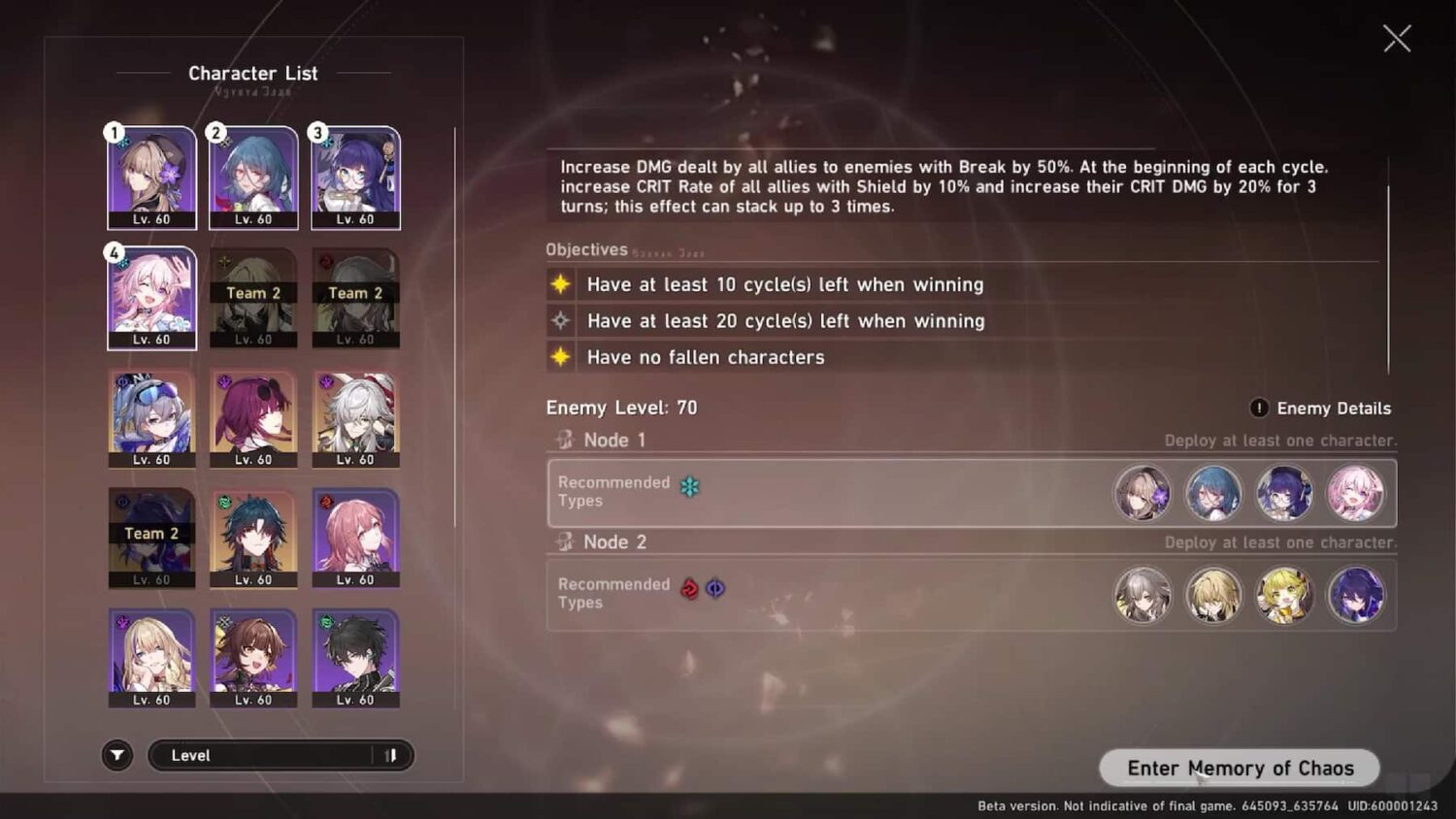 Image via HoYoverse
Forgotten Hall is divided into two parts: Memory and Memory of Chaos. Memory has 15 sub-levels to its name and has rewards for clearing each one of them. Once the whole Memory stage has been completed, then Stellar Jade is awarded as part of the rewards for completing the whole level. Memories of Chaos are similar to the Memory but the only difference is they are harder than Memory thus each individual level has better rewards.
3. Simulated Universe Missions
Simulated Universe is a special sort of game mode where players enter an alternate universe where random power buffs are spread all across the map, with each offering something unique to the players. The game mode is divided into two main parts, namely Exploration Mode and Challenge Mode. In Exploration mode, players get the chance to clear the dungeons and gather Curios and Blessings (random buffs) as well as new allies.
Image via HoYoverse
Challenge mode is a bit more direct, where rewards are earned by defeating pre-designed enemies. It should be noted that rewards are better in the challenge mode as the difficulty is a bit more compared to the other modes. These modes are repetitive and reset on a weekly basis hence giving a very good opportunity for players to collect valuable resources in the game.
Final Thoughts
The game, other than the extensive combat system and detailed character progression system also offers very diverse sets of game modes where players can experience the game differently. We hope that with this Honkai Star Rail Game mode guide, we were able to communicate the important aspects of each game mode Honkai Star Rail has to offer.
Did you find this Honkai Star Rail Game mode guide useful? Let us know in the comments below!
For more Mobile Gaming news and updates, join our WhatsApp group, Telegram Group, or Discord server. Also, follow us on Google News, Instagram, and Twitter for quick updates.
The post Honkai: Star Rail: The complete Game mode Guide and Tips appeared first on GamingonPhone.
* This article was originally published here